Ingredients:
Marinade:
1 cup (250ml) soy sauce
6 large cloves garlic, chopped
5 spring onions, whites finely chopped (reserve green part for herb butter and garnish)
2-3 red chillies, finely chopped
6 Tbsp (90ml) honey
¼ cup (60ml) sesame oil (optional)
Salt and milled pepper
3kg beef prime rib roast
Canola oil, for frying
Herb butter:
½ cup (125ml) butter, softened
½ punnet fresh coriander
1 Tbsp (15ml) sesame seeds, toasted + extra for serving
Pinch red chilli, chopped + extra for serving 
Method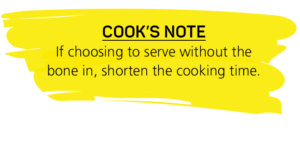 Preheat oven to 190°C.
Combine marinade ingredients.
Season ribs well and place in a large baking bag. Add marinade and seal.
Marinate for at least 4 hours (overnight is even better), shaking bag and turning meat occasionally to coat.
Combine herb butter ingredients, roll into a log, wrap in clingfilm and chill to firm up.
Remove meat from bag, reserving marinade.
Heat oil and brown meat all over, about 3-5 minutes per side.
Place in a roasting tray, fat-side up, and baste with marinade.
Roast for 1½ hours, basting every 30 minutes for a medium-rare roast, working on or every 15 minutes per 500g meat.
Cover roast with foil and rest for 10 minutes.
Remove butter from fridge to soften slightly.
Serve roast with butter and a sprinkling of sesame seeds, spring onion and chilli.