More than 1 hour
(plus marinating time)
Ingredients:
Espetada:
8 cloves garlic, chopped
¼ cup (60ml) red wine vinegar
¼ cup (60ml) red wine
8 black peppercorns, crushed
8 fresh bay leaves, torn + extra to skewer
¾ cup (180ml) canola oil
2.5-3kg beef rump, sliced into 5cm cubes
Roasted veg:
4 potatoes, boiled, skin on and cut into chunks
2 red peppers, seeds removed and sliced into 3cm strips
2 palermo peppers (bell peppers or a packet of sweet snacking peppers work well too)
5 salad tomatoes, quartered
¼ cup (60ml) olive oil
2 tsp (10ml) paprika
1 tsp (5ml) cayenne pepper
Salt and milled pepper
Harissa paste and a handful of chopped parsley, to serve
Method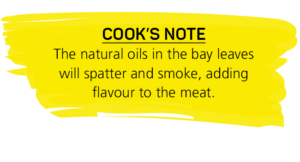 Preheat oven to 200°C.
Mix garlic, vinegar, wine, peppercorns, bay leaves and oil together in a bowl.
Toss meat in marinade and marinate for at least 4 hours.
Toss roasted veg ingredients together in a large roasting tray. Season.
Roast for 45-60 minutes, until potatoes are crisp.
Meanwhile, prepare medium coals.
Thread meat onto metal skewers, alternating with extra bay leaves and leaving 1cm gaps between cubes. Season.
Braai for 7-8 minutes a side, until meat is firm and juices run clear.
Serve skewers with roast vegetables, generous dollops of harissa paste and parsley.