Ingredients:
Pesto: 
2 cloves garlic
½ packet (50g) blanched almonds
1½ cups (38g) basil leaves
5 Tbsp (75ml) olive oil, plus extra for brushing
1 cup (60g) parmesan, grated, plus extra for sprinkling
Salt and milled pepper
Bread:
4 cups (600g) white bread flour
¾ packet (7g) instant yeast 
½ tsp (7ml) salt
1⅓ cups (330ml) lukewarm water
Method: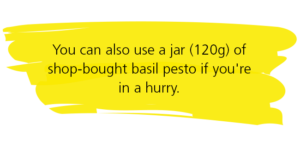 Place pesto ingredients in a food processor and blend until smooth. 
Refrigerate with a thin layer of olive oil covering the surface. 
Place flour, yeast and salt in a mixing bowl. 
Add lukewarm water while mixing with a dough hook. 
Knead for 5-7 minutes, or until smooth. 
Place in a lightly oiled bowl and cover with clingfilm. Leave to rise until doubled in size.
Roll out dough on a floured surface into a 5mm-thick square. 
Brush with ⅔ cup (160ml) pesto, sprinkle with parmesan and season, leaving a 3cm border on one end. 
Roll dough towards the open border. 
Cut in half horizontally. 
Braid halves, cut side facing up. 
Place on a lined baking tray. 
Roll into a ring and scrunch edges together tightly.
Cover with a tea towel and set aside for 15-20 minutes to proof and puff up slightly. 
Preheat oven to 180°C. 
Brush with olive oil and bake for 30-40 minutes, or until golden. 
Serve hot out of the oven – no butter needed!