Ingredients:
1 cup (250g) butter, cubed
2 slabs (100g each) dark chocolate
1⅔ cups (333g) castor sugar
3 eggs
1¼ cups (190g) flour
⅓ cup (40g) cocoa powder
Pinch salt
⅗ cup (150ml) Coke
⅖ cup (100ml) brandy
½ tub (1L) vanilla ice cream, for serving
Method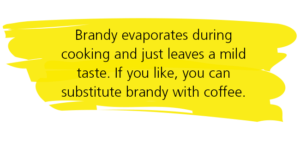 Preheat oven to 180°C.
Melt butter, chocolate and castor sugar together until smooth.
Whisk in eggs one at a time, combining well before the next addition.
Sift in flour and cocoa, and add salt.
Combine Coke and brandy and stir into batter.
Pour into a 23x18cm lined ovenproof dish.
Bake for 30-35 minutes, being careful not to overbake. Cool completely.
Cut 9 squares from brownie base – a bread knife works best. 
Slice each square across the middle in two to create a sandwich.
Unmould ice cream from the container and cut into squares the same size as the brownie blocks. (Alternatively, simply use an ice-cream scoop.)
Sandwich ice cream between brownie slices. 
Serve immediately.