Ingredients:
240g butter, softened
¾ cup (150g) sugar
4 eggs
½ tsp (3ml) vanilla extract
1½ cups (225g) cake flour
1 tsp (5ml) baking powder
Pinch salt
For serving:
¾ cup (180ml) cream
Jam of choice, for filling
Icing sugar, for dusting
Method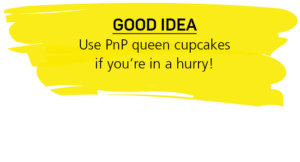 Preheat oven to 160°C.
Line 8 holes of a cupcake pan with paper cupcake casings.
Cream butter and sugar until light and fluffy.
Add eggs one by one, allowing to incorporate before adding next addition.
Stir in vanilla extract.
Sift together cake flour, baking powder and salt.
Fold flour into mixture until well-combined.
Spoon ¼ cup (60ml) batter into each cupcake casing.
Bake for 20-25 minutes. Cool.
Whisk cream to soft peaks.
Slice tops off each cupcake and halve each.
Make a shallow indentation in each cupcake and fill with cream.
Insert the 2 'wings' into the cream and spoon a little jam into the gap to create the butterfly body.
Dust with icing sugar and serve.