Ingredients:
2 egg yolks
1 Tbsp (15ml) lemon juice
Pinch salt
½ cup (125ml) melted butter, still warm
Pinch cayenne pepper or paprika (optional)
Method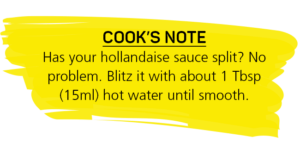 Blitz together egg yolks, lemon juice and salt for 1-2 minutes, until the colour lightens slightly. 
Pour in melted butter in a thin stream while blending, until smooth. 
Season well and add cayenne or paprika, if using.