Ingredients:
Red pepper relish:
Glug oil
2 red peppers, charred in griddle pan or on braai and roughly chopped
2 onions, chopped
3 cloves garlic, finely chopped
1 large packet (100g) tomato paste
1 punnet (200g) cherry tomatoes, halved
¼ cup (60ml) white balsamic vinegar
¼ cup (60ml) brown sugar
4 large skinless chicken breast fillets 
Salt and milled pepper
2 Tbsp (30ml) Cajun spice mix (or a mixture of paprika and cumin)
1 pineapple, peeled and sliced
1 Tbsp (15ml) cayenne pepper
2 Tbsp (30ml) brown sugar
8 slices PnP emmental cheese (or cheese of choice, thinly sliced)
4 burger buns with sesame seeds, toasted
Pickled red onion and rocket, for serving 
Method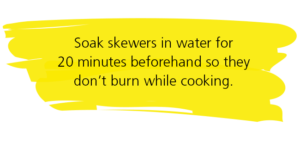 For the relish, sauté red onion in oil until soft. 
Add garlic and chillies and fry for a minute.
Add remaining ingredients and simmer for 20-30 minutes.
Cool and refrigerate until needed. 
For the skewers, combine chicken, ½ cup (125ml) of the relish, oil and allow to marinate for 30 minutes.
Thread onto bamboo skewers and cook over medium coals until cooked through, basting with remaining relish and turning as it cooks.
Serve with chopped coriander, chillies and pitas on the side.
COOK'S NOTE:
Chicken fillets are thicker on one side than the other and should always be flattened to ensure even cooking on the braai. This cut doesn't have moisture from skin or bones, so be sure to cook over a high heat so the fillet does not dry out.
Get the recipe for pickled red onions and more pickled veggies here.