Ingredients:
2 Tbsp (30ml) canola oil
2 onions, chopped
2 stalks celery, sliced
3-4 cloves garlic, chopped
8 (about 1kg) large potatoes, peeled and cubed
4 cups (1L) vegetable stock
Handful fresh thyme
2 red chillies, halved
½ cup (125ml) cream
2 Tbsp (30ml) chopped fresh coriander or thyme
Salt and milled pepper
For serving:
1 cup (130g) leftover shredded chicken (optional)
2-3 baby marrows, sliced and roasted
Handful frozen peas, blanched
Crusty bread
Method: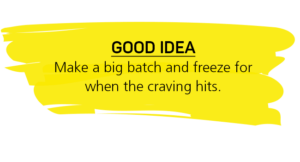 Heat oil in a large pot and fry onion and celery for 3 minutes.
Add garlic and potato cubes and fry for another minute or two.
Add stock, thyme and chillies and simmer gently for 20-25 minutes.
Blitz until smooth and pour back into the pot.
Add cream and herbs, and season generously. Allow to reheat.
Ladle soup into bowls and top with chicken, baby marrow and peas.
Serve with crusty bread.