Ingredients:
1 Tbsp (15ml) canola oil + extra for brushing
1 packet (150g) PnP exotic mushrooms, sliced
1 packet (250g) PnP portabellini mushrooms, sliced
Salt and milled pepper
4 tsp (20ml) brandy or water
2 Tbsp (30ml) Bovril
½ cup (125ml) cream
2 tsp (10ml) olive oil
1 tsp (5ml) honey
4 matured steaks
Lightly salted potato chips and rocket leaves, for serving
Method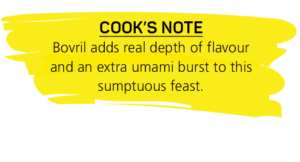 Heat oil in a frying pan and fry mushrooms until golden.
Season with pepper.
Add brandy and 1 Tbsp (15ml) Bovril and fry for 1 minute more.
Stir in cream and remove from heat. Keep warm.
Combine remaining Bovril, olive oil and honey.
Brush steaks with a little canola oil and season lightly.
Cook steaks over medium coals for 3-4 minutes a side, basting frequently with the Bovril and honey mix.
Serve steaks hot off the grill with chips and rocket.