Ingredients:
½ cup (125ml) mayonnaise
2 tsp (10ml) curry powder
Salt and milled pepper
6 hard-boiled eggs, sliced
1 loaf ciabatta
3 Tbsp (45ml) butter
100g cheddar, sliced
1 tomato, thinly sliced
½ red onion, sliced
1 head baby gem lettuce, shredded
Method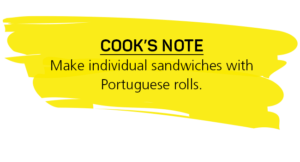 Combine mayonnaise and curry powder. Season.
Gently fold through eggs (taking care not to break them up too much.)
Slice the top layer off the ciabatta to create a 'lid'.
Hollow out the centre, leaving a 1-2cm crust all round.
Butter the inside of the ciabatta, add cheese and spoon in egg mayo.
Top with tomato, red onion and lettuce. Season.
Place 'lid' back on top.
Wrap loaf with clingfilm, foil or wax paper and chill until ready to serve.