Ingredients
Blue cheese butter
1 pack (100g) blue cheese, crumbled
½ cup (125ml) butter, softened
3 spring onions, finely chopped
2 cloves garlic, finely chopped
1 red chilli, deseeded and chopped
6-8 (about 1-2kg) large sweet potatoes, unpeeled
Salt and milled pepper
Method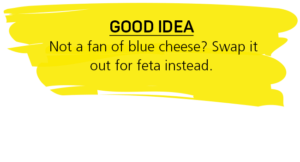 Combine blue cheese butter ingredients and set aside.
Slice each potato hasselback-style (scoring the flesh deeply at 2mm intervals – take care not to cut all the way through).
Fill incisions with half the butter and dot the remaining butter on top.
Season and wrap each potato in foil.
Place directly onto medium coals and cook for 20-30 minutes, turning regularly.
Serve immediately.