There's something so satisfying about icing a beautifully homemade cake. While testing out your baking skills, why not improve on your icing skills to take your cake game from "okay" to "oh wow"? The FL team shares their tips and tricks.
Types of icing
Once the cake has been baked and cooled, choosing your icing would be the next step.
There are four most commonly used types – namely, buttercream, royal icing, cream cheese
icing and fondant. The ultimate classic is the basic buttercream which is a deliciously buttery
icing. Incorporating flavour into the icing is pretty easy by either using an essence or extract
whisked in at the last moment. Royal icing, on the other hand, is a fairly liquid icing that
hardens after piping. It's most commonly used for decorating biscuits. While cream cheese
icing is typically associated with red velvet and carrot cake, it's a combination of
buttercream and cream cheese which makes it rich, creamy and holds shape when piped.
Short on time? Fondant will do the trick. Unlike the other icings, fondant remains stiff and
can be kneaded and rolled out like a firm dough using cornflour, then it can easily cover a
cake.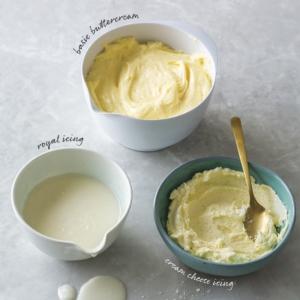 Basic buttercream:
Whisk 1½ cups (375g) softened butter until fluffy. Add 5 cups (650g)
sifted icing sugar in batches until pale and fluffy. Whisk in 2-3 tsp (10-15ml) lemon juice to
taste. Colour or flavour as desired.
Makes 5 cups
Royal icing:
Whisk 1 lightly beaten egg white into 1½ cups (195g) sifted icing sugar. Add a squeeze of
lemon juice.
Makes 1 cup
Cream cheese icing:
Whisk 1 cup (250g) butter at room temperature until fluffy. Add 1 tub (230g) cream cheese
and whisk until smooth and well combined. Whisk in 3½ cups (450g) sifted icing sugar in
batches until pale and fluffy.
Makes 4-5 cups
There are a variety of icing techniques that can be used. The FL team has gathered their favourites for you to choose from. You'll want to try them all.
Naked rainbow layer technique
Choose the number of layers you want the cake to be. Divide icing into separate bowls
according to the number of layers. Tint the icing in each bowl a different colour using food
colouring and a toothpick or skewer. Pipe icing onto each layer using a piping bag with a
fitted nozzle.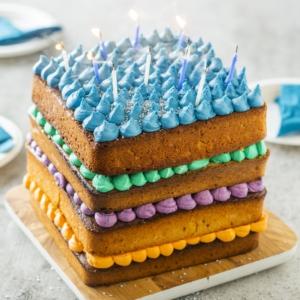 Chocolate drip technique
To create the drip effect, combine canola oil with some melted chocolate. We used a ratio
of 2 slabs (100g each) chocolate and ½ Tbsp (7ml) oil. Simply pour over the centre of the
cake and use the back of a spoon to ease chocolate over the edges of the cake to create the
drip effect.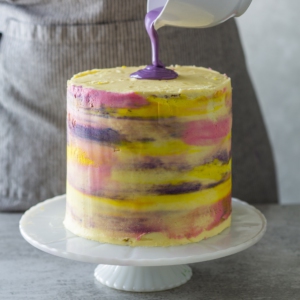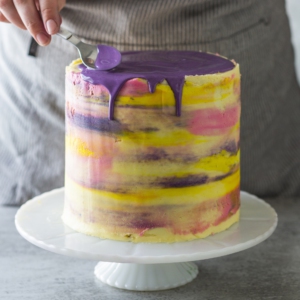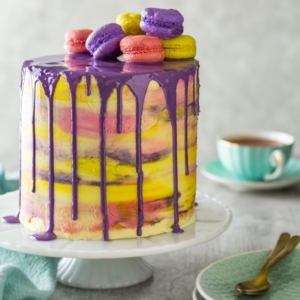 Textured icing technique
This trendy effect takes a little patience but is well worth it. Cover a layered cake with a thin
layer of buttercream icing and chill for 20 minutes. This is called the "dirty layer" and will
not show on the final product. Cover with a thicker layer of buttercream, using a palette
knife to smooth the edges and chill until firm. Colour remaining icing as desired and place a
few smears around the cake. And spread lightly while turning the cake. Chill until firm and
repeat process to create a layered effect.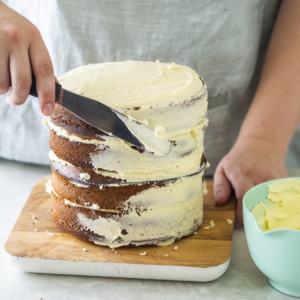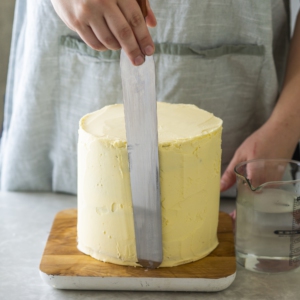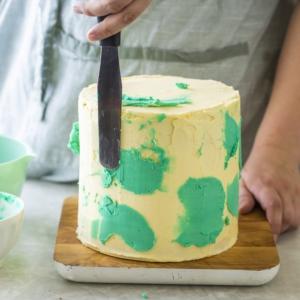 No tools? No problem!
Nifty icing tools are helpful but are not essential. If you don't have all the relevant tools in
your cupboard, do not fret. We have a few simple solutions for you.
No palette knife?
Use a long metal ruler – just make sure it's clean!
No piping bag?
Place icing in a zip-seal bag, twist the ends of the bag to seal and snip off the tip of one
corner.
No turntable?
Place two plates on top of each other with a handful of marbles between them for easy
turning. Or simply ask a friend or family member to help you turn the plate while you ice the
cake.
Happy Baking!