Ingredients:
Paste:
2 cloves garlic, peeled and chopped 
2cm knob fresh ginger, grated
2 spring onions, chopped 
1 Tbsp (15ml) rice vinegar 
Barbecue sauce:
½ cup (125ml) soy sauce
3 Tbsp (45ml) brown sugar
2 Tbsp (30ml) sesame oil 
1 Tbsp (15ml) rice vinegar 
1 Tbsp (15ml) cornflour 
12 boneless pork rashers 
Salt and milled pepper
Sliced spring onions and a sprinkling of sesame seeds, for serving
Method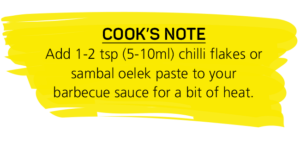 Blitz all the ingredients for the paste until smooth.
Combine paste with barbecue sauce ingredients, except cornflour, in a pot and bring to a boil. 
Stir in cornflour and cook for another 2-3 minutes.
Remove barbecue sauce from heat and allow to cool. 
Thread boneless pork rashers onto bamboo skewers that have been pre-soaked in water – this will prevent skewers from burning.
Season and brush with barbecue sauce, reserving some for basting. 
Grill rashers over medium-hot coals for 20-30 minutes or until cooked through.
Remove from heat and baste with reserved sauce. 
Serve topped with spring onions and sesame seeds.