More than 1 hour (plus marinating time)
Ingredients:
Relish:
1 red onion, finely chopped  
2 Tbsp (30ml) olive oil
2 cloves garlic, chopped
2 red chillies, deseeded and chopped 
500g mango, peeled and finely diced
½ cup (125ml) passion fruit pulp
Juice (60ml) and grated peel of 1 lemon
1 cup (250g) brown sugar 
¼ cup (60ml) water 
Skewers:
4 chicken fillets, cubed
2 Tbsp (30ml) olive oil
Chopped coriander, chillies and pitas, to serve
Method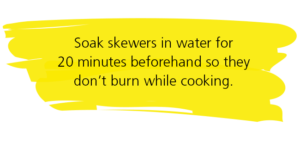 For the relish, sauté red onion in oil until soft. 
Add garlic and chillies and fry for a minute.
Add remaining ingredients and simmer for 20-30 minutes.
Cool and refrigerate until needed. 
For the skewers, combine chicken, ½ cup (125ml) of the relish, oil and allow to marinate for 30 minutes.
Thread onto bamboo skewers and cook over medium coals until cooked through, basting with remaining relish and turning as it cooks.
Serve with chopped coriander, chillies and pitas on the side.