Ingredients:
7 medium eggs
1 packet (200g) streaky bacon
¼ cup (60ml) maple-flavoured syrup or maple syrup
1 Tbsp (15ml) chopped thyme
2 cups (300g) cake flour
1 Tbsp (15ml) baking powder
½ tsp (3ml) salt
1¼ cups (310ml) buttermilk
¼ cup (60g) butter, melted
2 Tbsp (30ml) chopped chives + extra for sprinkling
1 cup (125g) cheddar cheese, grated
1 spring onion, thinly sliced lengthways
Method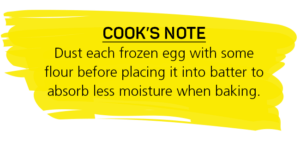 Bring a pot of water to the boil and add 6 eggs.
Boil for 4 minutes, remove and plunge into iced water.
Carefully peel eggs (they will be very soft) and place upright into an empty egg carton lined with clingfilm.
Freeze for an hour.
Chop half the bacon and fry in a hot pan for 5-7 minutes or until crispy.
Stir through half the maple syrup and thyme and remove from heat. 
Preheat oven to 180°C.
Sift flour and baking powder together and add salt.
Whisk remaining egg with buttermilk and butter.
Add dry ingredients and stir to combine. 
Fold through bacon, chives and cheese.
Place Tbsp (30ml) mixture into the base of each greased muffin cup.
Nestle an egg upright in the centre of each muffin cup.
Cover each egg with remaining batter and sprinkle with chives.
Bake for 8-10 minutes.
Fry remaining bacon until crispy, add the rest of the syrup and set aside.
Serve muffins topped with bacon and garnish with spring onion.