Ingredients:
Stuffing:
1 cup (250ml) uncooked couscous
Handful parsley, chopped
1 preserved lemon, finely chopped (optional)
1 red onion, finely chopped 
2 Tbsp (30ml) butter, melted
1 large (1.2kg) chicken, innards removed
¼ cup (60g) butter, softened
Salt and milled pepper
Juice (120ml) and grated peel of 2 lemons
2 lemons, quartered
2 red onions, quartered
12 baby potatoes, halved
2 Tbsp (30ml) olive oil
10 sprigs thyme
1 cup (250ml) chicken stock
¼ cup (60ml) dukkah spice mix 
Couscous, chopped mint and parsley, for serving
Method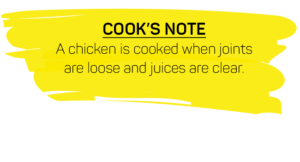 Preheat oven to 180°C.
Combine stuffing ingredients and set aside.
Rub chicken with butter and season.
Place stuffing inside chicken cavity.
Place breast-side up in a roasting pan and pour over lemon juice.
Pack lemons, onions and potatoes in roasting pan, drizzle with oil and scatter with thyme.
Pour over chicken stock and cover with foil.
Roast for 15 minutes.
Uncover and roast for 35-45 minutes, basting every 15 minutes until done.
Sprinkle chicken with dukkah spice mix and grated lemon peel.
Serve with rice, mint and parsley.