Ingredients:
2kg beef shin or neck
Salt and milled pepper
¼ cup (60ml) cake flour
3 Tbsp (45ml) canola oil
4 (about 100g each) thick-cut pork rashers
6-8 baby onions, quartered
3 cloves garlic, crushed
2 bottles (340ml each) milk stout
3 bay leaves
2 cups (500ml) beef stock
3 Tbsp (45ml) Worcestershire sauce
Handful fresh parsley or thyme leaves
1 bag (1kg) baby potatoes, halved
2 packets (200g each) baby carrots, peeled and halved
Juice (30ml) of ½ lemon
Cooked rice, for serving
Method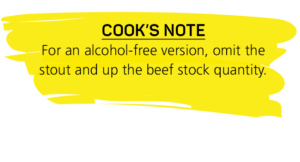 Season beef generously and coat evenly in flour, shaking off excess.
Heat oil in a cast-iron pot over hot coals.
Brown beef and pork in batches. Remove and set aside.
Add onions and garlic to the pot and fry for 3-5 minutes.
Return meat to pot, add stout and braise gently for 5-8 minutes.
Adjust coals to low-medium heat.
Add bay leaves, stock, Worcestershire sauce and herbs, cover and simmer for 2 hours. (Avoid stirring as far as possible.)
Add potatoes, cover and simmer for 15 minutes.
Add carrots, cover and simmer for 10-15 minutes, or until tender.
Remove from heat, season and add lemon juice.
Serve with rice.