Ingredients:
1 packet (500g) tagliatelle
Glug olive oil
1 head cauliflower, broken into florets
1 small onion, sliced
1 packet (250g) portobellini mushrooms
3 cloves garlic, finely chopped
½ cup (125ml) white wine (optional)
Handful fresh Italian parsley, chopped
½ packet (50g) walnuts, chopped
Salt and milled pepper
Finely grated parmesan cheese, for serving
Method: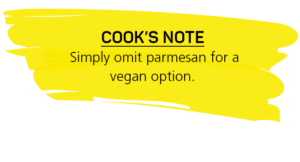 Cook tagliatelle according to packet instructions in boiling, salted water. 
Drain and reserve ½ cup cooking water.
Heat oil in a large pan and fry cauliflower, onion and mushrooms in batches, until well browned and cooked through.
Add garlic and fry for another minute or two.
Add wine, if using, to deglaze pan.
Stir in cooked pasta, parsley and nuts and toss to combine (add reserved cooking water if pasta seems too dry).
Season well.
Serve scattered with parmesan cheese.