Ingredients:
3 cups (750ml) chicken stock 
1 can (410g) tomatoes 
2 cloves garlic, crushed 
1¼ cups (250g) risoni  
Salt and milled pepper  
½ packet (150g) Swiss chard, chopped 
1 cup (250ml) grated white cheddar cheese + extra for serving 
2 Tbsp (30ml) olive oil 
1 packet (4) chicken breast fillets 
¼ cup (60ml) chicken stock 
1 cup (250ml) each parsley and basil, chopped  
Method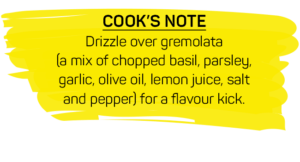 Place 3 cups stock, tomatoes, garlic, risoni and seasoning in a pot over medium heat and bring to the boil.  
Simmer for 8-10 minutes.  
Remove from heat, stir in Swiss chard, cover and set aside for 5 minutes.  
Stir in cheese.  
Heat oil in a saucepan and brown chicken.  
Add ¼ cup stock, season and cover.  
Simmer for 10 minutes, or until chicken is cooked through. 
Shred chicken using two forks.  
Scatter over parsley and basil and mix with the risoni.  
Serve topped with extra grated cheese.