Ingredients
4 cloves garlic, crushed 
2 chillies, deseeded and finely chopped
1 Tbsp (15ml) paprika
2 Tbsp (30ml) tomato paste 
¾ cup (180ml) sherry 
1 packet (450g) half-shell mussels 
Salt and milled pepper
Garlic bread: 
2 cloves garlic, grated
¼ cup (60ml) parsley, chopped 
⅓ cup (80g) butter
1 baguette, make 1cm-thick slits in loaf
Method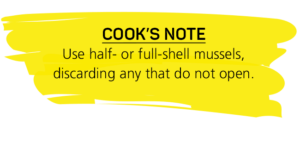 Stir garlic, chillies, paprika, tomato paste and sherry together. 
Add mussels and toss to coat. Season. 
Braai mussels shell-side down over hot coals for 15 minutes, turning halfway through cooking time.
Simmer remaining sauce in a pot for a few minutes.
For the garlic bread, stir garlic, parsley and butter together.
Spread flavoured butter between bread slices. 
Wrap in foil and braai over coals for 15 minutes.
Remove foil and toast for 4-5 minutes each side or until golden. 
Serve mussels with garlic bread and sauce.