Ingredients:
12 figs, scored or halved
12 slices prosciutto ham
1 PnP baguette, thinly sliced
2 Tbsp (30ml) butter, melted
3 wheels (about 125g each) Castello Camembert 
2 Tbsp (30ml) honey + extra for serving
2 Tbsp (30ml) pomegranate rubies
1 Tbsp (15ml) chopped fresh thyme
Method:
Preheat oven to 180˚C.
Tightly wrap each fig with 1 slice prosciutto. Set aside.
Arrange baguette slices on a baking tray and brush with melted butter.
Bake for 5 minutes or until golden. Set aside.
Arrange Castello Camembert wheels in a single layer on a lined baking tray.
Drizzle with honey and bake for 5-10 minutes or until soft to the touch.
Transfer Castello Camembert to a serving platter and top with figs.
Garnish with pomegranate rubies, drizzle with extra honey and scatter with thyme.
Serve immediately with baguette slices on the side.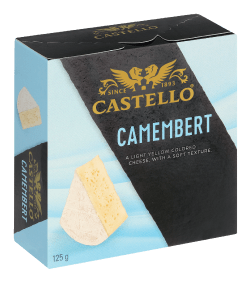 Castello's talented cheese makers in Denmark have been crafting hundreds of cheese recipes since 1893. Castello produces dozens of cheese varieties with intriguing flavours & unusual shapes. From strong, tangy and delightfully creamy Camembert to melt-in-your mouth Brie (and much, much more), there's a Castello flavour sensation for you to delight in. Discover more at www.castello.com.