Ingredients:
Salt and milled pepper
1.5kg beef goulash (or cubed beef brisket works well too)
3 Tbsp (45ml) olive oil
2 onions, chopped
4 cloves garlic, chopped
4 sprigs rosemary
4 sprigs thyme
1 large sachet (100g) tomato paste
1 cup (250ml) red wine
2 cans (400g each) cherry tomatoes
1 cup (250ml) beef stock
300g tagliatelle, cooked according to packet instructions
Parmesan cheese and roasted vine tomatoes, for serving
Method: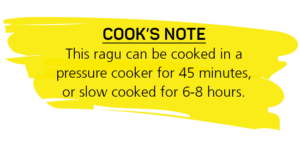 Season meat and heat half the oil in a pot.
Brown meat in batches. Remove and set aside.
Heat remaining oil in the same pot.
Sauté onions until soft and translucent.
Add garlic, rosemary and thyme and fry for a minute.
Add tomato paste and cook for another minute or until sticky.
Add wine to deglaze pot, then stir in tomatoes and stock.
Reduce heat, cover and simmer for about 1½-2 hours until meat is soft, stirring regularly.
Shred meat with two forks – it should flake easily – and stir to combine with gravy.
Serve on a bed of tagliatelle and top with parmesan shavings and roasted tomatoes.