Ingredients:
2.5-3kg silverside beef
¼ cup (60ml) oil
Salt and milled pepper
3 red onions, thickly sliced
1 cup (250ml) beef stock
6 thyme sprigs + extra to serve
1 Tbsp (15ml) flour
¾ cup (180ml) port
1 bunch grapes
4 plums, halved
Method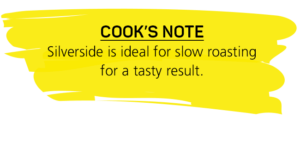 Preheat oven to 180°C.
Rub beef with oil. Season.
Heat a casserole and brown meat evenly.
Remove and set aside.
Arrange onion slices in casserole dish and place meat on top.
Pour in stock and add thyme sprigs.
Cover meat with a piece of damp greaseproof paper, followed by a double layer of foil.
Roast for 2-2½ hours.
Place fruit in a roasting pan and roast for 20-30 minutes until softened.
Check halfway and add a splash of water if needed.
Remove meat and onion from casserole and set aside. 
Place casserole on stovetop and reduce liquid by a third.
Stir flour with a bit of water to form a paste.
Add to casserole to make gravy.
Add port and simmer until slightly thickened, then strain.
Slice beef and serve with fruit and gravy.