Ingredients:
3 cups (500g)

milk chocolate chips

1 can (385g)

condensed milk 

¼ cup (60g)

butter 

1 tsp (5ml)

vanilla essence

½ cup (70g)

salted peanuts

+ extra for sprinkling

½ cup (60g)

pecan nuts

, lightly crushed

1 cup (60g)

pretzels

1 cup (50g)

mini marshmallows

+ extra for sprinkling
Method: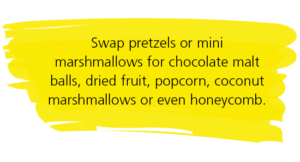 Grease

and line a 18cm square baking tray.

Combine

chocolate chips, condensed milk and butter in a saucepan over medium heat. 

Cook

for 8-10 minutes, stirring continuously until the mixture pulls away slightly from the sides of the saucepan. 

Remove

from heat and fold in vanilla essence, salted peanuts, pecan nuts and pretzels. 

Cool

slightly before adding marshmallows. 

Spoon

into the prepared tray and smooth out the surface. 

Sprinkle

with extra marshmallows and nuts, if you like. 

Set

at room temperature until firm, or in the fridge for 1-2 hours, before cutting into squares.

Store

in an airtight container for up to a week or in the fridge for 3 weeks.