Ingredients:
Dressing:
¼ cup (60ml) plain double-cream yoghurt
1 tsp (5ml) fish sauce
2 Tbsp (30ml) fresh coriander, chopped
Pinch chilli flakes (optional)
Salt and milled pepper
2 (250g each) salmon fillets, skin on
2 Tbsp (30ml) sesame oil
Juice (60ml) of 1 lemon
4 PnP medium tortillas
½ packet (125g) mangetout, blanched and sliced
¼ head (about 200g) red cabbage, shredded
4-5 sliced radishes
Lemon or lime wedges, for serving
Method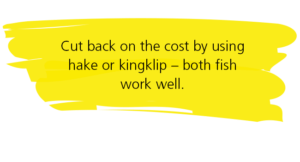 Preheat oven to 160°C.
Combine dressing ingredients and set aside.
Season salmon and cook over medium coals for 4-6 minutes per side, or until cooked through and lightly charred.
Drizzle with half the lemon juice and flake with two forks.
Fold each tortilla over the rungs of your oven rack to create a taco shell and bake in the oven for 1-2 minutes. Remove and set aside.
Fill each taco shell with salmon, mangetout, cabbage and radish.
Squeeze over remaining lemon juice.
Drizzle tacos with dressing and serve with lemon or lime wedges on the side.
Browse more braai recipes here.