Ingredients:
2 ⅔ cups (500g)

semolina flour

2¼ cups (450g)

sugar

2 tsp (10ml)

baking powder

½ tub (500g)

plain double-cream yoghurt 

1 cup (250ml)

melted ghee

(clarified butter)

Almonds
Syrup:
2 cups (400g)

sugar

2 cups (500ml)

water

Juice (30ml) of ½

lemon
Method: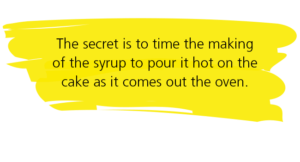 Preheat

oven to 180°C.

Line

and grease a 15cm x 25cm baking dish. 

Combine

all ingredients and mix to form a thick batter.

Press

mixture into baking dish, flattening the top with a spatula. 

Slice

cake into squares or diamond shapes and press an almond in the centre of each. 

Bake

for 30-40 minutes until golden brown. 

For syrup

,

combine all ingredients in a pot over medium heat.

Simmer

until sugar is completely dissolved (about 3-4 minutes). 

Pour

syrup evenly over cake when it comes out of the oven. 

Set

aside for a few minutes for syrup to be absorbed. 

Serve

once cooled, topped with a dollop of yoghurt.
Cook's note: Want to make your own clarified butter? Melt butter on the stovetop until completely melted, then scoop off all the white milk solids floating on the top. Remember, you have to melt more butter than the recipe calls for, as you are discarding some of it after melting.