Less than 30 minutes (plus setting time)
Ingredients:
1½ cups (300g) xylitol 
½ cup (125g) butter, cubed 
1½ packets (150g) pumpkin seeds, toasted 
2 packets (100g each) mixed nuts, toasted 
Method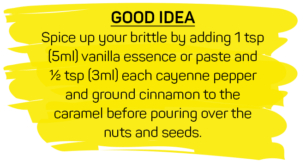 Line a baking tray with baking paper. 
Heat butter over low heat until it just starts to melt. 
Add xylitol and stir until butter is completely melted and xylitol has dissolved. 
Allow mixture to cook for about 12-15 minutes, stirring continuously so it does not separate. (If using a candy thermometer, take it to hard crack stage 146°-154°C.)  
Remove from heat. 
Scatter half the toasted seeds and nuts onto baking tray. 
Pour over the caramel and top with remaining seeds and nuts. 
Allow to set completely before breaking into pieces. 
Store in an airtight container for up to 2-3 weeks.