Ingredients
18 prawns, washed, deveined and heads removed
2 Tbsp (30ml) butter
2 garlic cloves, sliced 
Salt and milled pepper
Juice (120ml) of 2 lemon
2 avocados
¼ cup (60ml) sour cream
5 coriander sprigs
1 Tbsp (15ml) wasabi paste 
Nori (seaweed), sesame seeds and watercress and lettuce cups to serve
Method: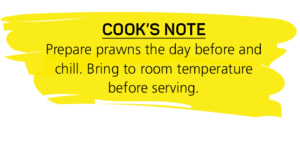 Heat butter in a pan and fry prawns and garlic cloves until prawns are bright pink.
Season and add half the lemon juice. Remove and set aside.
Blitz avocados, sour cream, remaining lemon juice, coriander, wasabi paste and seasoning until smooth. 
Spread whipped avo on a serving plate and top with prawns.
Sprinkle with nori (seaweed) snippings and sesame seeds and top with watercress. 
Serve with lettuce cups on the side to scoop up the sauce.