Ingredients
1 (about 1kg) whole angelfish, cleaned
Salt and milled pepper
2 cloves garlic, thinly sliced
1 bulb fennel, thinly sliced (reserve fronds for garnish)
1 stalk lemongrass, bruised and halved
2 lemons, sliced
Handful fresh coriander
Tartare sauce or tzatziki, for serving
Method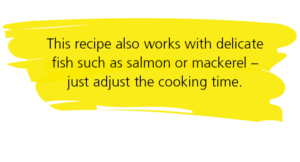 Prepare medium-hot coals in a kettle braai (you should be able to hold your hand over the coals for 3-4 seconds only).
Season fish and fill the cavity with garlic, fennel, lemongrass, lemon slices and coriander.
Wet 4-6 sheets newspaper and line with baking paper before wrapping fish in newspaper.
Place on grid over coals and cover with braai lid.
Braai fish for about 20-30 minutes, or until the newspaper is dry.
Garnish fish with chopped fennel fronds and extra lemon slices, if you like.
Serve with tartare sauce or tzatziki on the side.