Ingredients:
2 pineapples, peeled and cut into wedges
3 limes, halved + extra for garnish
1 jalapeño, deseeded
¼ cup (60ml) honey or brown sugar
1 cup (250ml) pineapple juice 
1 cup (250ml) orange juice
1 cup (250ml) tequila (optional)
2-3 cups ice cubes
1 Tbsp (15ml) Maldon salt  
1 Tbsp (15ml) coconut sugar or brown sugar
Sprigs mint, for serving (optional)
Method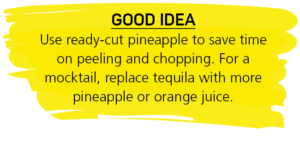 Grill pineapple and lime halves (cut-side down) over hot coals for 4-8 minutes, until charred.
Allow to cool.
Add grilled pineapples, juice from limes, jalapeño, honey, juices and tequila to the jug of a blender, along with ice.
Blitz until smooth.
Mix salt and sugar. 
Rub a lime wedge along the rims of serving glasses and dip into salt and sugar mixture.
Fill glasses with frozen margarita and serve with a slice of lime or sprig of mint.