Under 30 minutes
(+ chilling time)
Ingredients:
1 can (385g) condensed milk
1 tub (230g) medium or full-fat cream cheese
Pulp of 6-8 passion fruits or 2 tubs (240g each) granadilla pulp + extra for topping (optional)
1 cup (250ml) cream, chilled
Biscuits, crushed, for topping (optional) or crumble (see 'Good Idea' )
Method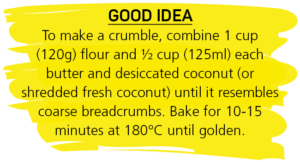 Combine condensed milk, cream cheese and pulp until smooth.
Whip cream to stiff peaks.
Whisk ¼ whipped cream into condensed milk mixture.
Fold in remaining cream until well-combined.
Spoon into serving glasses and chill in the fridge for 1-2 hours until set.
Serve as is, or topped with passion fruit pulp or biscuits.