This self-saucing pudding is an all-in-one, no custard or trimmings needed. The secret is in the layer of liquid added on top of batter – here's how!
Step 1:
Cream 2 eggs and ½ cup (125g) castor sugar together until light and fluffy. Combine ⅖ cup (100g) melted butter, 1 cup (250ml) milk and ½ Tbsp (8ml) vanilla essence and stir into eggs.  Sift 2 cups (300g) self-raising flour and ¼ cup (30g) cocoa powder together, add ½ tsp (3ml) salt and fold into wet mixture.  Spoon batter into a deep dish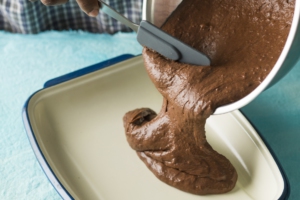 Step 2:
Sprinkle 1 cup (250g) brown sugar and  ¼ cup (30g) cocoa powder evenly over the batter.
Step 3:
Pour 1½ cups (375ml) boiling water over the back of a spoon so that it 'floats' gently on top of the batter and settles there. You don't want the force of pouring to create a hole in the batter so the water sinks to the bottom before baking.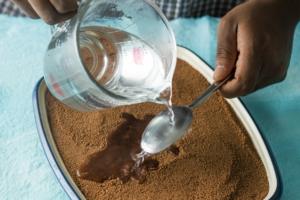 Step 4:
Finally, bake in a preheated oven at 180°C for 30-35 minutes. Serve hot – no saucy sides required!
Fresh berries, a few mint leaves or a scoop of ice cream works well with this delicious pudding, but it really doesn't need anything – it's a winner as is!