Ingredients:
Harissa paste:
8 dried red Thai chillies
4 dried bird's-eye chillies
1 tsp (5ml) each cumin seeds, coriander seeds and caraway seeds 
4 cloves garlic, chopped 
2 Tbsp (30ml) lemon juice  
2 Tbsp (30ml) smoked paprika
3-4 Tbsp (45-60ml) olive oil
For a rose harissa add:
2 star anise
1 tsp (5ml) honey
1 tsp (5ml) rose water 
2 Tbsp (30ml) dried rose petals
Method: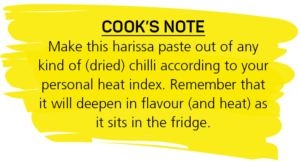 Soak chillies in hot water for 30 minutes. 
Drain chillies and discard seeds and stems.
Toast  whole spices in a dry pan for 1-2 minutes until fragrant. 
Combine chillies, toasted spices, garlic and olive oil in a jug. 
Blend with a stick blender until smooth (you can also do this using a pestle and mortar).
For rose harissa, add star anise when toasting spices in the pan.
Add honey, rose water and petals when blending. (It will be slightly sweeter and very fragrant, making the heat slightly milder.)
Store in a jar, covered with a layer of oil, in the fridge for 2-3 weeks.