Ingredients:
Basting:
Juice (60ml) and grated peel of 1 lemon
4 tsp (20ml) thyme, finely chopped
2 bay leaves, finely chopped
Salt and milled pepper
1 cup (250g) butter, melted
Stuffing:
1 large onion, finely chopped
2 cloves garlic, minced
Butter, for sautéeing
½ cup (125ml) dried cranberries
Glug dry sherry
1 packet (8 pieces) PnP traditional pork sausages, casing removed
1 cup (250ml) breadcrumbs
1 Tbsp (15ml) rosemary, chopped 
1 Tbsp (15ml) bay leaves
Salt and milled pepper
1 (about 4kg) PnP frozen turkey, defrosted and giblets removed
2 packets (250g each) streaky bacon
Method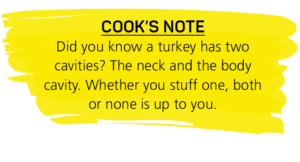 Preheat oven to 220°C.
Combine basting ingredients and set aside.
Sauté onion and garlic for about 5 minutes in butter until soft. Cool.
Soak cranberries in sherry for about 1 hour and drain.
Combine soaked cranberries, sausage, breadcrumbs, cooled onion mixture and herbs. Season.
Stuff turkey cavity. 
Truss turkey and brush with basting.
Starting at the top of the turkey breast, lay a strip of bacon over each breast on a slight diagonal. Continue down the breast, creating a herringbone pattern.
Tuck the ends of a few strips into thigh and drumstick creases and drape over the drumstick too.
Roast for 20-30 minutes then reduce oven temperature to 180°C.
Roast for another 30-40 minutes, basting every 15-20 minutes until golden and cooked through.
Rest for about 10-15 minutes before carving.
Serve.