More than 1 hour (plus marinating time)
Ingredients:
4 cloves garlic, grated
½ Tbsp (7ml) salt (preferably flakes)
Milled pepper
1 Tbsp (15ml) coriander seeds, toasted
2 tsp (10ml) olive oil
3 sprigs rosemary, leaves finely chopped
1.5kg deboned leg of lamb, secured with string
Gremolata:
1 punnet (20g) Italian parsley, leaves only
1 large clove garlic
Salt and milled pepper
Grated peel of 1 lemon
Juice (30ml) of ½ lemon
1 Tbsp (15ml) olive oil + extra for tossing
2 anchovies, finely chopped (optional) 
Method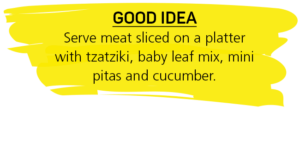 Preheat oven to 200°C.
Crush garlic, pepper, coriander seeds, olive oil and rosemary using a pestle and mortar to create a paste.
Rub all over lamb and rest for 20-30 minutes to bring meat to room temperature.
Grill meat over medium coals (you should be able to hold your hand over coals for 5 seconds) for 10-15 minutes, turning regularly.
Remove from coals and wrap in foil. 
Roast in oven for 10-15 minutes or cook in a kettle braai for a medium-rare roast.
Rest meat for about 10 minutes.
Finely chop gremolata ingredients and toss with extra olive oil.
Serve meat thinly sliced with gremolata on the side.