Ingredients:
1 cup (250ml) milk
¾ cup (180ml) sugar
2 cups (500ml) cream
Pinch salt
2 cups (80g) mint leaves
5 jumbo egg yolks
1 drop green food colouring
2 (49g each) Peppermint Crisp chocolates, chopped
Method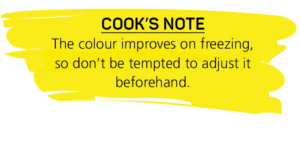 Heat milk, sugar, 1 cup (250ml) cream, salt and mint in a medium pot until steaming hot.
Remove from heat, cover, and infuse for 1 hour.
Strain milk, pressing with a spatula to extract as much flavour as possible. Discard mint.
Reheat infused milk.
Whisk yolks in a separate bowl and slowly add a little hot infused milk to whisked egg.
Add egg mixture to the milk in the pot, whisking constantly.
Stir until thickened to a custard-like consistency covering the back of a wooden spoon.
Pour remaining cream into a large bowl. Pass custard through a fine sieve and add to cream.
Add colouring.
Place bowl over an ice bath until cool, then refrigerate overnight.
Freeze in a large container, beating with an electric whisk every hour until thick and slushy.
Stir through chopped chocolate.
Scoop into a freezer-proof container, cover and freeze until firm.