Ingredients:
2 Tbsp (30ml) honey
¼ cup (60ml) strong rooibos tea, cooled
2 Tbsp (30ml) chopped fresh mint + extra for serving
1 punnet (500g) PnP pre-cut pineapple
4 peaches, sliced
8 PnP giant braai marshmallows
1 packet (200g) PnP ginger biscuits, crushed
Vanilla ice cream, for serving
Method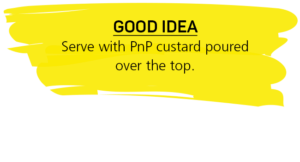 Combine honey and tea and toss with mint, pineapple and peaches.
String marshmallows onto skewers and braai over medium coals until slightly charred.
Divide fruit and biscuits in layers between 4 jars.
Add 2 marshmallows to each jar and top with a scoop of ice cream.
Garnish with extra mint leaves.