Ingredients:
Meatballs:
500g pork mince
3cm knob ginger, chopped
2 cloves garlic, chopped
2 tsp (10ml) sesame oil
½ bunch spring onions, finely sliced
Salt and milled pepper
¼ cup (60ml) black sesame seeds
Glug vegetable oil
Stir-fry:
1 green pepper, cut into chunks
½ bunch spring onions, peeled and cut into chunks
1 pineapple, peeled and cut into chunks
Sauce:
3 Tbsp (45ml) hoisin sauce
2 Tbsp (30ml) white wine vinegar
2 Tbsp (30ml) light soy sauce
1 tsp (5ml) cornflour, mixed with a little cold water
Cooked rice noodles, for serving
Method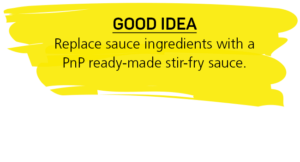 Combine mince, ginger, garlic, sesame oil, spring onions and seasoning.
Shape into small meatballs. Roll in sesame seeds to coat.
Heat a generous glug of oil in a large pan or wok and fry meatballs until golden and almost cooked through.
Add green pepper, spring onion and pineapple and fry until just tender.
Add sauce ingredients and cook until mixture thickens slightly.
Serve tossed with noodles.