Ingredients:
Glug olive oil
1 onion, chopped
2 each red and yellow peppers, diced
3 cloves garlic, chopped
1 tsp (5ml) cumin seeds, lightly crushed
1 Tbsp (15ml) smoked paprika
2 Tbsp (30ml) tomato paste
1 Tbsp (15ml) harissa paste (for recipe please click here)
Worcestershire sauce
2 cans (400g each) chopped tomatoes
Salt and milled pepper
1 tsp (5ml) sugar
6-8 eggs
Handful roasted sesame seeds, grated parmesan (optional) and crusty bread, for serving
Method: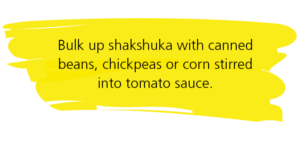 Heat oil in a pan and sauté onion and peppers.
Add garlic and spices and fry for a minute.
Stir in tomato paste, harissa and soy sauce, cook for a minute, then add canned tomatoes. Season and add sugar.
Simmer for 3-4 minutes.
Make a shallow hole in the sauce, using a ladle.
Break an egg into a mug then pour it into sauce. Repeat with other eggs.
Cover with a lid and cook for 5-8 minutes until eggs are done. (You could also use poached eggs simply warmed in the tomato sauce, if you prefer.)
Sprinkle with sesame seeds and parmesan, if you like, and serve immediately with bread.