Ingredients:
½ packet (50g) pine nuts
3 cloves garlic, chopped 
Pinch salt
2 punnets (20g each) fresh basil leaves
1 punnet (20g) fresh thyme, leaves picked
⅓ cup (80ml) olive oil 
¼ cup (60ml) grated parmesan
Juice (30ml) and grated peel of 1⁄2 lemon
Milled pepper
Method: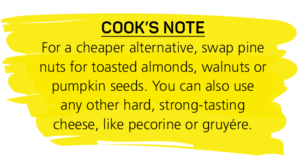 Toast the pine nuts in a pan – watch them as they burn easily. When golden and fragrant, remove and cool.
Using a pestle and mortar, grind garlic, pine nuts and salt together until fine. (You can use a food processor to speed things up.)
Add the basil and thyme and continue crushing for 7-10 minutes, or until a paste forms.
Pour in olive oil slowly while mixing until it all comes together.
Stir through the parmesan and lemon juice and peel. 
Season to taste. Store in an airtight container and refrigerate. This fresh pesto should last up to 5 days.