Ingredients:
3kg turkey
Salt and milled pepper
4 oranges
Handful sage, roughly chopped
½ cup (125g) butter, softened
5 cloves garlic, peeled 
Method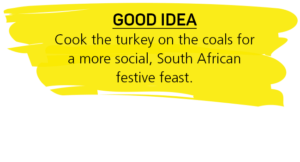 Remove giblets from turkey cavity. Rinse and pat dry.
Season cavity with salt and milled pepper.
Grate orange peel then halve oranges.
Combine orange peel, sage, butter and one crushed garlic clove in a bowl.
Loosen skin over turkey breast and spread flavoured butter underneath.
Stuff 3 orange halves and 4 garlic cloves into cavity.
Prepare medium coals in a Weber.
Place turkey, breast-side up, on the grid.
Add remaining oranges cut-side down on the grid and grill until caramelised. Set aside. 
Cover turkey and braai over medium coals for two and a half hours, turning frequently to prevent skin from burning. (To test whether the turkey is cooked through, make a cut in the thickest part of the thigh – if it's cooked, the meat juices will run clear). 
Baste with any meat juices.
Remove from heat and rest turkey for 30 minutes.
Slice and serve with grilled oranges.