Ingredients:
Patties:
1kg beef mince
1 tsp (5ml) paprika
4 tsp (20ml) ground cumin
4 tsp (20ml) ground coriander
Salt and milled pepper
Glug oil
1 packet (8 slices) PnP full-fat cheddar cheese slices
To serve:
4 burger buns, toasted
Good-quality mayonnaise
Lettuce leaves
1 tomato, thickly sliced
3 gherkins, sliced
1 packet (125g) lightly salted chips
Method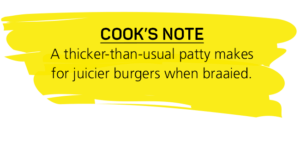 Mix patty ingredients together in a large bowl. Season.
Divide into 4 equal balls.
Flatten into patties and refrigerate for about 20 minutes.
Brush patties with a bit of oil and cook for 6 minutes per side over medium-hot coals (or in a heated griddle pan).
Top each patty with two slices of cheese and cook until cheese has melted.
Remove and set aside to rest for 5 minutes.
Smear buns with mayonnaise and layer lettuce, tomato, gherkins and patties on top.
Serve with chips and plenty of serviettes.