Ingredients:
2 Tbsp (30ml) olive oil + extra for drizzling
2 onions, chopped
4 cloves garlic, sliced
1 packet (50g) tomato paste
2 cans (400g each) peeled and chopped tomatoes
2 Tbsp (30ml) Worcestershire sauce
Salt and milled pepper
Pinch sugar
1 can (400g) butter beans, rinsed and drained 
1 can (400g) cannellini beans, rinsed and drained
1 can (400g) green beans or 1 packet (300g) fresh beans, cut into 4cm pieces
4 sprigs fresh thyme 
4 sprigs fresh oregano
1 packet (100g) English spinach
2 discs (80g) plant-based or regular feta cheese
Garlic bread, toasted
Method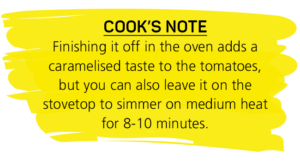 Preheat oven to 200°C.
Heat oil in an ovenproof pan and sauté onion for about 8 minutes, until soft and golden.
Add garlic and tomato paste.
Cook until sticky.
Tip in canned tomatoes. Add Worcestershire sauce, seasoning and sugar, and simmer for 3-4 minutes.
Add all beans and herbs and stir to combine evenly.
Bake in the oven for 10 minutes. 
Stir through spinach and sprinkle with feta.
Drizzle feta with olive oil and bake for 10-15 minutes until sauce is thick and caramelised on the sides of the pan.
Serve beans with toasted garlic bread.