Ingredients:
Meatballs:
800g beef mince
2 tsp (10ml) each ground coriander and cumin
1 tsp (5ml) salt
Milled pepper
½ punnet (10g) fresh parsley, chopped
3 Tbsp (45ml) olive or canola oil, for frying
Sauce:
1 large onion, chopped
1 red bell pepper, chopped
4 cloves garlic, chopped
1 Tbsp (15ml) each ground coriander, ground cumin and paprika
1 tsp (5ml) cayenne pepper or chilli flakes
1 can (400g) peeled and chopped tomatoes
1 can (400g) tomato puree
1 can (400g) red kidney beans, rinsed and drained
1 can (400g) corn kernels, rinsed and drained
2 Tbsp (30ml) Worcestershire sauce
1 tsp (5ml) sugar
1 tsp (5ml) cocoa powder
For serving:
Fresh coriander or parsley
Lime or lemon juice
Tortilla chips or rice
Sour cream (optional)
Method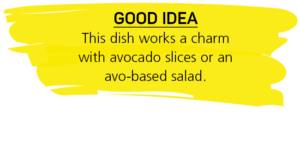 Combine meatball ingredients in a bowl.
Roll mixture into golf-ball-sized balls. 
Heat half the oil in a large pan over high heat.
Fry meatballs in batches until browned and crisp all over, about 3-5 minutes. (Don't crowd the pan or they will steam instead.) Remove and set aside.
Add remaining oil to pan and sauté onion and red pepper for about 5 minutes, until softened.
Add garlic and spices, fry for a minute, then add other sauce ingredients. 
Cook sauce for 2-3 minutes.
Nestle meatballs in sauce, cover and cook on medium heat for 10-15 minutes (or in the oven at 200°C for 10 minutes).
Sprinkle with coriander and dress with lime or lemon juice.
Serve meatballs in sauce with rice or tortilla chips and sour cream.