Ingredients:
Stuffing:
1½ cups (375ml) water
½ cup (125ml) tricolour quinoa
Salt and milled pepper
½ red onion, finely chopped
2 cloves garlic, crushed
1 Tbsp (15ml) butter
½ cup (125ml) fresh herbs (such as parsley, coriander and basil), chopped
½ cup (125ml) dried figs, chopped
1 large (about 1.4kg) free-range chicken
Olive oil
6 carrots, scrubbed and quartered
2 red onions, quartered
1 bulb garlic, halved
2 Tbsp (30ml) honey
2 sprigs fresh thyme
Method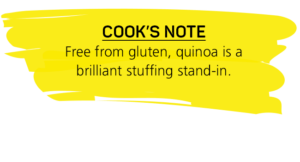 Preheat oven to 200°C.
Boil water and simmer quinoa with a dash of salt until liquid is absorbed and quinoa is tender.
Sauté onion and garlic in butter.
Add cooked quinoa, herbs and figs. Season.
Rub chicken with oil and salt.
Stuff chicken with the quinoa mixture and tie the legs together with kitchen twine.
Toss carrots, onion, garlic, honey and thyme in a roasting tray.
Place chicken on top of veg and drizzle with 2 tsp (10ml) olive oil.
Roast for 1.5 hours, until chicken is golden and meat juice runs clear from a cut made in the thickest part of the thigh.
Serve hot with roasted vegetables.