Ingredients:
2 packets (100g each) walnuts or pecans, chopped
½ tsp (3ml) cinnamon
8 sheets phyllo pastry, defrosted
¼ cup (60ml) maple syrup
1 can (400ml) coconut cream, chilled
4-6 bananas, sliced
Filling:
½ tub (120g) ricotta cheese
¼ cup (60ml) maple syrup or honey
2 tsp (10ml) vanilla extract or vanilla essence
Juice (60ml) and grated peel of 1 lemon
Date caramel:
1 punnet (400g) medjool dates, stoned and chopped
½ cup (125ml) hot water
¼ cup (60ml) honey
½ cup (125ml) coconut milk
1 tsp (5ml) vanilla extract or vanilla essence
Pinch salt
Method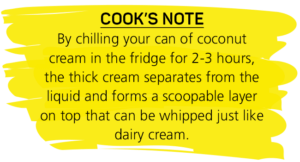 Preheat oven to 180°C. 
Line 2 baking trays with baking paper.
Combine nuts and cinnamon.
Place two sheets of pastry next to each other and brush with maple syrup.
Sprinkle with a little nut mixture and layer each with another sheet of pastry.
Repeat until you have 2 stacks with 4 layers of pastry each.
Cut each stack into 12 squares and place on lined trays.
Bake for 10-12 minutes, or until golden and crispy.
Combine filling ingredients until smooth.
Place date caramel ingredients in a blender and blitz until smooth and velvety.
Fold 2 Tbsp date caramel into filling mixture until smooth.
Skim solid cream from coconut cream and whip to stiff peaks. (Discard liquid or use in smoothies).
Place a spoonful of filling on each pastry square, followed by banana slices, some date caramel and whipped coconut cream.
Layer 4 squares of pastry on top of each other to form a stack, creating a total of 6 stacks.
Serve.