Ingredients:
5 eggs 
1 cup-1½ cups (250-375ml) milk 
¾ cup (180ml) canola oil 
½ cup (125ml) cake flour 
½ cup (120g)

Pakco

C

hilli

Bite Mix

 

¼ cup (60ml) semolina flour or polenta 
1 Tbsp (15ml) baking powder 
1 tsp (5ml) ground cumin 
Salt and milled pepper  
2 red chillies, deseeded and finely chopped 
1 can (400g)

Rhodes Quality

W

hole

Kernel Corn

, drained 
½ packet (200g) spinach, chopped 
1 onion, diced 
Fresh coriander and plain yoghurt, for serving 
Method
Preheat oven to 180°C. 
Whisk together eggs, milk and oil. 
Add flour,

Pakco

C

hilli

Bite Mix

 

, semolina or polenta, baking powder and cumin. Season. 
Mix well to create a batter. 
Stir in chillies, corn, spinach and onions. 
Place mixture into a greased 18cm x 12cm rectangular baking dish. 
Bake for about 40 minutes or until set (making sure to check oven after 30 minutes). 
Cool slightly before cutting into squares.  
Serve sprinkled with chopped coriander and yoghurt on the side.  
Good idea:
Reduce the baking time by half and make these in a lined muffin pan for a delicious bite-sized snack.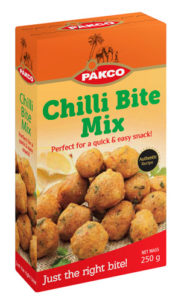 Pakco – Packed with flavour 
Bringing the ultimate flavour to cooking comes down to the unique blend of spices you add to your meals. Only Pakco is expertly blended and packed with flavour. Pakco knows that the ultimate flavour lies in the blend, and this equals the ultimate satisfaction and recognition. Add Pakco, for top-quality meals with the ultimate flavour.