Ingredients:
2 small Hokkaido pumpkins, cut into wedges
Salt and milled pepper 
2 Tbsp (30ml) olive oil 
1 cup (250ml) water
1 cup (250ml) sugar 
1 cup (250ml) rice vinegar or white balsamic
1 Tbsp (15ml) fish sauce
1 tsp (5ml) chilli paste 
2-4 red chillies, chopped
4 cloves garlic, chopped 
2cm knob ginger, peeled and grated
Method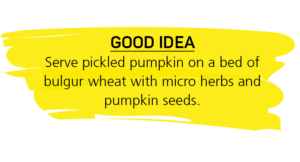 Toss pumpkin wedges with seasoning and oil. 
Roast at 220°C for 15-18 minutes. Cool. 
Combine remaining ingredients in a saucepan on low heat. 
Simmer for 4-5 minutes, stirring until sugar dissolves and allowing the flavours to infuse.
Place pumpkin in a single layer in a plastic or glass container with a tight-fitting lid, and pour liquid over, making sure it covers pumpkin. 
Cool and refrigerate. 
Keeps for 4-5 days.