Ingredients:
1 can (400ml) coconut milk
½ cup (100g) brown sugar (xylitol or Sweetly sugar substitute works well too)
2 Tbsp (30ml) water
4 egg yolks
1 slab (100g) dark chocolate, melted + extra for serving
½ can (200ml) coconut cream
Coconut flakes, toasted, for serving
Method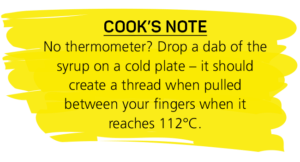 Chill coconut milk in the fridge. (This will separate the thick cream layer on top, for easy whipping.)
Line a 30cm loaf tin with two layers of cling film.
Heat sugar and water in a pot over medium heat. Simmer until it reaches 112°C. 
Whisk 4 egg yolks using an electric mixer for 6 minutes, or until light and pale.
Pour a thin stream of syrup down the side of the egg mixture, while motor is running, and whisk until pale and foamy.
Halve the mixture.
Fold melted dark chocolate into one half and coconut cream into the other.
Skim solid cream from chilled coconut milk (discard liquid).
Whip to stiff peaks, halve and gently fold into both mixtures until smooth. 
Pour chocolate mixture into loaf tin and freeze until just set.
Add coconut layer and freeze until fully set.
Serve unmolded and garnished with toasted coconut flakes and drizzled dark chocolate.