Ingredients:
Dressing: 
Juice (30ml) of ½ lemon 
¼ cup (60ml) olive oil 
1 Tbsp (15ml) wholegrain mustard 
1 Tbsp (15ml) honey 
2 sirloin steaks 
Salt and milled pepper 
Olive oil, for frying 
Salad: 
2 cans (400g each) brown lentils, patted dry 
1 tsp (5ml) ground cumin 
1 cup (250ml) PnP full-fat plain yoghurt 
½ tub (125g) ricotta cheese 
1 packet (500g) pickled beetroot, thinly sliced 
1 packet (80g) watercress 
1 packet (80g) rocket 
Method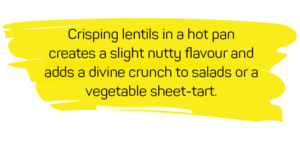 Whisk dressing ingredients together and set aside. 
Season steaks. 
Heat a glug of oil in a pan and fry steaks for 4 minutes per side (medium-rare). 
Rest meat for 10 minutes. 
Heat oil over a high heat in a separate non-stick pan. 
Fry lentils in batches for 3-5 minutes until crispy, sprinkling with cumin as you fry. 
Drain on kitchen paper. 
Spread yoghurt on a serving platter and crumble over ricotta. 
Top with beetroot slices, crispy lentils, watercress, rocket and sliced steak. 
Drizzle over dressing just before serving.